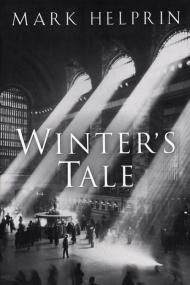 A great city is nothing more than a portrait of itself, and yet when all is said and done, its arse­nals of scenes and images are part of a deeply moving plan. As a book in which to read this plan, New York is unsurpassed. For the whole world has poured its heart into the city by the Palisades, and made it far better than it ever had any right to be.
But the city is now obscured, as it often is, by the whitened mass in which it rests -- rushing by us at unfathomable speed, crackling like wind in the mist, cold to the touch, glistening and unfolding, tumbling over itself like the steam of an engine or cotton spilling from a bale. Though the blinding white web of ceaseless sounds flows past mercilessly, the curtain is breaking . . . It reveals amid the clouds a lake of air as smooth and clear as a mirror, the deep round eye of a white hurricane.
At the bottom of this lake lies the city. From our great height it seems small and distant, but the activity within it is apparent, for even when the city appears to be no bigger than a beetle, it is alive.We are falling now, and our swift unobserved descent will bring us to life that is blooming in the quiet of another time. As we float down in utter silence, into a frame again unfreezing, we are confronted by a tableau of winter colors. These are very strong, and they call us in . . . .