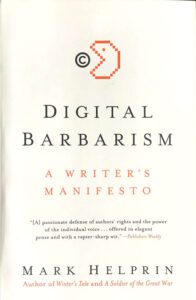 About the Book
A lightning attack upon the new barbarism in its most powerful form.
The new digital barbarism is, in its language, comportment, thoughtlessness, and obeisance to force and power, very much like the old. And like the old, and every form of tyranny, hard or soft, it is most vulnerable to a bright light shone upon it. To call it for what it is, to examine it while paying no heed to its rich bribes and powerful coercions, to contrast it to what it presumes to replace, is to begin the long fight against it.
Very clearly, the choice is between the preeminence of the individual or of the collective, of improvisation or of routine, of the soul or of the machine. It is a choice that perhaps you have already made, without knowing it, Or perhaps it has been made for you. But it is always possible to opt in or out, because your affirmations are your own, the court of judgment your mind and heart. These are free, and you are the sovereign, always. Choose.