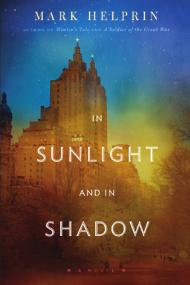 Prologue
If you were a spirit, and could fly and alight as you wished, and time did not bind you, and patience and love were all you knew, then you might rise to enter an open window high above the park, in the New York of almost a lifetime ago, early in November of 1947.
After days of rain and unusual warmth, the skies are now the soft deep blue that is the gift of an oblique sun. The air is cool but not yet dense enough to carry sound sharply. From the playing fields, the cries and shouts of children are carried upward, sometimes clearly, sometimes muted, like murmurs, and always eventually to disappear. These sounds inexplicably convey the colors of the children's jerseys, which seen from the eleventh storey are only bright flecks on grass made so green by recent rains and cool nights that it looks like wet enamel.
Coming in the window, you might wonder who had left it open, for the apartment is empty, its silence, to a spirit, thundering like a heartbeat. Perhaps you would turn back to glance at the gulls bobbing in the reservoir, as white as confetti, or to see how the façades of Fifth Avenue across the park and over the trees are lit by the sun in white, ochre, and briefly flaring yellow. The wind coming through the window, as you do, unseen, moves a shade to and fro as if gently breathing, its circular pull occasionally leaping up enough in contrary motion to tap against a pane as if it wants to speak. No one is in. In a breeze that enters and dies before it reaches the back rooms, you ride above particles of dust propelled across polished floors like snowflakes tumbling in a blizzard. In the air is a remnant of perfume, strongest by the door, as is often the case. The lights are off, the heat not yet been turned on, and the brass front-door lock silent and immobile, waiting to be turned and released.
In the room overlooking the park the bookshelves are full. Hanging above the fireplace is a Manet seascape with flags and pennants snapping in the wind; in a desk drawer beneath the telephone, a loaded pistol. And on an oval marble table in the entrance hall near the immobile lock and its expectant tumblers is a piece of card stock folded in half and standing like an A. Musical staffs are printed on the outside. Inside, sheltered as if deliberately from spirits, is a note waiting to be read by someone living. On the same smooth marble, splayed open but kept in a circle by its delicate gold chain, is a bracelet, waiting for a wrist.
And if you were a spirit, and time did not bind you, and patience and love were all you knew, then there you would wait for someone to return, and the story to unfold.