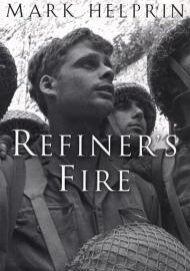 "Every once in a while a book appears that engulfs you in its limitless beauty. . . . This is such a book. Helprin's use of language and imagery is an ineffable joy." (The Philadelphia Inquirer).
---
"Refiner's Fire is an experience, like being shot out of a cannon — exhilarating, extravagant, vertiginous." (Margaret Manning, The Boston Globe).
---
" As if the Odyssey had been updated and rewritten by Dylan Thomas." (The Listener, London).
---
"Mark Helprin, who must be legend to his friends, risks more than most novelists dare in ten years. Helprin writes like a saint, plots like a demon, and has an imagination that would be felonious in all but the larger democracies . . . . The sound that drowns all others in this novel is that of kingdom-come ignition." (The Village Voice)
---
"Fabulous . . . . Imagine Fielding's Tom Jones reborn into the twentieth century with Laurence Stern as midwife." (Harper's Magazine)
---
"Marvelous . . . . A brilliantly sinuous tale that sets an Augie March-like young man into a Gabriel Garcia Marquez universe . . . There are so many things to admire in Mark Helprin's first novel that one's problem is where to begin." (Joyce Carol Oates, The New York Times Book Review)
---
"Superb. . . . A first-rate odyssey, full of insight and humor and hard-earned wondrous truths. . . That best of all possible novels: read ten pages and you can't put it down; finish it and you'll feel it haunt your days and nights." (Patricia Holt, San Francisco Examiner & Chronicle)